Reference: Cassiopea sold to Austria in 5/2013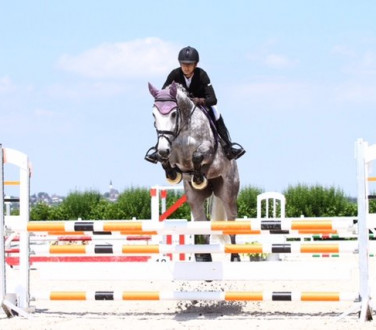 Beautiful Reference was coming from Austria today!!!
Cassiopea and her rider Vivien won for four times in Stadl Paura !!!!
Hezké pozdravy z Rakouska.
Posílám ti výsledky a fotku ze závodů ve Stadl- Pauře o víkendu! Cassiopea přenesla suveréně a bezchybně mojí dceru Vivien přes čtyři parkůry pro jezdce bez lizence s výborným stylovým ohodnocením a čtyřmi vítěztví. Teď potřebujeme jenom Zkoušky dresůry a teorie a licenci bude mít v kapse. A pak budou holky teprve létat!
Jsem moc pyšná a spokojená a Cassi se nemusí skovávat ani ve dresůře. Dělá stále pokroky.
Měj se moc fajn a zase se ozveme.
S pozdravem Simona Fleischmann
---